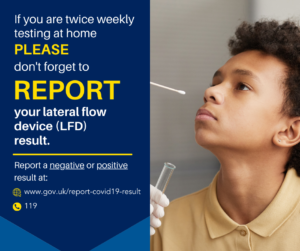 Please read the important information below from Northumberland County Council.
Residents urged to report their home tests
Parents and carers of children in year 7 or above testing for Covid-19 at home are being reminded of the importance of reporting the test via the government service as well as through the channels they use with their school.

Households have been able to test at home using a Lateral Flow Device (LFD) for some time and whilst many are reporting their results, positive or negative via the Gov.uk website, many are still not reporting their twice weekly tests.

Liz Morgan, Northumberland's Director for Public Health, said: "It is great to see that so many people are getting lateral flow devices to test themselves at home, but we are seeing, both through the number of tests collected and those given out at schools a difference in numbers being reported.

It is important if you are taking a twice-weekly test to report your results. This will not only help to reduce infection rates in our county but will also tell us where there may be areas of higher infection and help us to plan where we need to put more resources."

It is not only children and their families that need to ensure they are reporting their home test results – anyone currently taking the twice-weekly home tests should also be reporting a positive, negative or void result online or via 119.

Reporting your results helps to reduce infection rates in our communities, protect those at higher risk of infection and prevent and reduce the spread of the virus.

Lateral flow testing helps those without symptoms identify if they have coronavirus. Should you test positive you should report your result straight away and book a confirmatory PCR test as soon as possible.

If your LFD test at home is negative, you need do nothing more other than report your test online or by calling 119, but remember that a negative test does not mean you definitely don't have Covid so following the hands, face, space fresh air guidance is still important.
Those children and young people in year 7 and above should also report a positive result to their school.

For up-to-date information on Covid-19 visit www.northumberland.gov.uk/coronavirus

Flowcharts advising of the process for 'testing with symptoms' and 'testing without symptoms' are also available via the website.