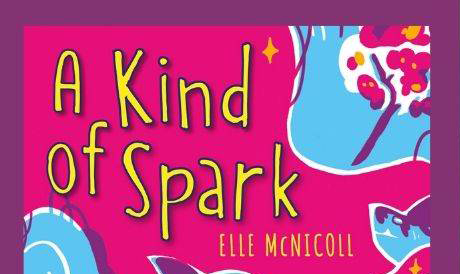 On Wednesday 18 November, Year 5 pupils at Whytrig Middle School were thrilled to "meet" the author of the book they have been reading this term as part of their English work on Witches. Elle McNicoll, who joined Year 5 through a virtual link up, is the author of A Kind of Spark, a book about Addie, who campaigns to have a memorial erected to commemorate the women from her village who were executed in a series of Scottish witch trials. Finding out about the witch trials through a school project, Addie realises that these women were executed simply for being a bit different; women who might indeed have been like her - autistic. As she battles for acceptance at school and in her community, Addie sets out to prove that being autistic need not be a barrier to achieving whatever she sets out to do.
Elle McNicoll said that she decided to write the book because growing up as an autistic girl, she couldn't see herself represented in children's books. She told the children that when she first suggested her idea for the book to publishers, they rejected it, saying they didn't think an autistic person would be able to write a book! Elle has not only proved them wrong, but her book has been nominated for awards. The children had lots of questions for Elle about being autistic, writing her book and the people and events which inspired her. They tried to get her to talk about her new book but she wouldn't give away any secrets. However, when she mentioned that her publisher has asked her to write another book featuring Addie, all the children agreed unanimously that she should definitely do it!
Elle left year 5 with two pieces of advice. On being creative, her advice was to write about what's happening around you and on the subject of inclusion, she said, "You're brilliant just the way you are".